News & Resources
Rare Bird Spotted In Oxfordshire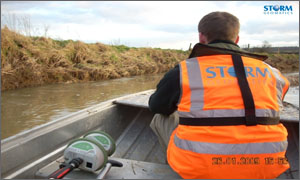 A rare bird from the heron family was spotted whilst surveying on watercourses to the south-west of Oxford. The ?bittern?, which is a brown flecked looking heron, was seen flying along a small watercourse by Anthony Pritchard. The location of the sighting was recorded and the Ordnance Survey coordinates were reported to the Environment Agency.
Storm Geomatics were commissioned to survey a watercourse in the Braunstone area of Leicester. Lubbesthorpe Brook has recently been adopted by the Environment Agency and the survey objective was to verify its existing levels and structures. Surveyors had to meet deadlines in mid January so hydraulic engineers could start their river modelling process.
A topographic survey was undertaken on part of the River Evenlode near Charlbury North Oxfordshire. The survey was undertaken on behalf of the fisheries department of the Environment Agency. A full 3D model of the site was provided with contoured drawings and cross sections.
Storm Geomatics have taken on three new employees this month. The move is an attempt to grow the business in line with the increasing demand for specialist water based surveys. Trainees will have the opportunity to extend their new careers within the company and be part of an exciting and developing industry.